[com.demandware.component.catalog.image.ExternalMediaFile@5f02a5a5, com.demandware.component.catalog.image.ExternalMediaFile@5b77516d, com.demandware.component.catalog.image.ExternalMediaFile@62c30f4b, com.demandware.component.catalog.image.ExternalMediaFile@791b6010, com.demandware.component.catalog.image.ExternalMediaFile@337edd1b]
Alternate Views
Details
Zealot ISO
C$ 118.99 Sale
C$ 169.99
2017-09-26T07:31:30.625Z
2018-09-26T07:31:30.625Z
CAD
C$ 118.99
InStock
OVERVIEW
ISOFIT provides stabilizing support while adapting to the movement of the runner's foot
Enhanced PWRGRID+ platform provides 20% more cushioning and better durability than previous versions
Support Frame adds structure and support in the heel
Awarded:

Women's Running, Sole Mate Award, Spring Shoe Guide 2015
RW Italy, Editor's Choice, Spring Shoe Guide 2015
Canadian Running Magazine, Best New Shoe, Spring Shoe Guide 2015
Canadian Running Magazine, Editor's Pick, Spring Shoe Guide 2015
SPECS
Shoe Category: Neutral
Pronation: Neutral
Cushion: Plush
Construction Type: Natural Motion
Surface: Road, Track
Arch: High, Normal (Mid), Low
Water Resistant: No
Waterproof: No
Offset: 4mm

Heel Stack Height: 25mm
Forefoot Stack Height: 21mm
OVERVIEW
ISOFIT provides stabilizing support while adapting to the movement of the runner's foot
Enhanced PWRGRID+ platform provides 20% more cushioning and better durability than previous versions
Support Frame adds structure and support in the heel
Awarded: Canadian Running Magazine, Editor's Pick, Spring Shoe Guide 2015
SPECS
Shoe Category: Neutral
Pronation: Neutral
Cushion: Plush
Construction Type: Natural Motion
Surface: Road, Track
Arch: High, Normal (Mid), Low
Water Resistant: No
Waterproof: No
Offset: 4mm

Heel Stack Height: 25mm
Forefoot Stack Height: 21mm
Weight: 7.4 oz. | 210 g.
ZEALOT ISO INFOGRAPH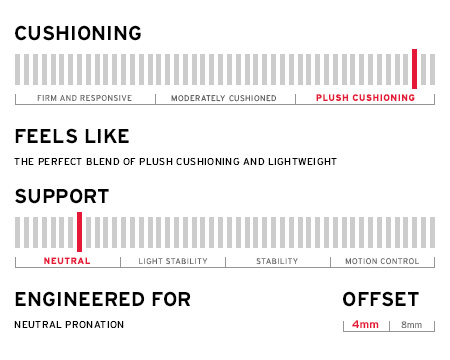 Cushioning
The underfoot feel and amount of impact protection provided by the compressing materials between the foot and running surface.
Support
The level of pronation control built into the shoe. Pronation is the inward rolling of the ankle through the gait cycle.
Offset
The difference in height between the heel thickness and forefoot thickness of the shoe.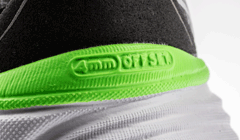 Shoes with a 4mm heel-to-toe offset deliver a more natural ride, letting your feet and body do more work while relying less on the shoes' cushioning and stability features.
Revolutionary fit system that morphs to the foot for a custom feel.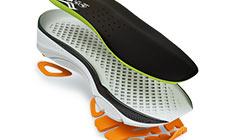 Proprietary midsole technology offering 20% more cushioning.