[com.demandware.component.catalog.image.ExternalMediaFile@4d70feeb, com.demandware.component.catalog.image.ExternalMediaFile@24a5b7e1, com.demandware.component.catalog.image.ExternalMediaFile@3bdb3d0, com.demandware.component.catalog.image.ExternalMediaFile@780e2fe8, com.demandware.component.catalog.image.ExternalMediaFile@32c301a4]
Alternate Views
Details
Valor
£63.00 Sale
£90.00
2017-11-24T23:03:01.440Z
2018-11-24T23:03:01.440Z
GBP
63.00
InStock
Looking for a tinge? We have the tinge. The Valor provides a tinge of support where it's needed most. Combined with its plush cushioning and a sleek fit, you can look forward to a simply great running experience.
OVERVIEW
Engineered mesh and FlexFilm in the upper provide a lightweight, glove-like fit
Stabilizer medial post strategically positioned in midfoot where it's needed most.
The PowerGrid midsole offers a highly cushioned ride from feel-to-toe
The Tri-Flex outsole delivers more ground contact and optimal flexibility at toe-off
SPECS
Shoe Category: Support
Pronation: Moderate
Cushion: Plush
Construction Type: Support
Surface: Road, Track
Arch: High, Low (mid)
Water Resistant: No
Waterproof: No
Offset: 8mm
Heel Stack Height: 27
Forefoot Stack Height: 19
Weight: 8.3 oz. | 235 g.
Cheat Sheet: technical running term help!
Visit our glossary >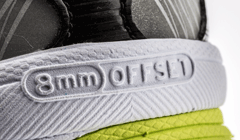 Cushioning is distributed more evenly between the heel and forefoot in shoes with an 8mm offset. The result? Your body stays in a more balanced and comfortable position with every foot strike.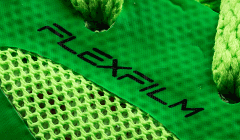 A strong, lightweight material is melded to the upper, which allows for fewer layers in the shoe. The result is a seamless, flexible feel.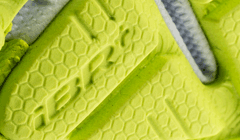 iBR+ is a supremely lightweight but durable outsole rubber that enhances your shoe's other cushioning elements.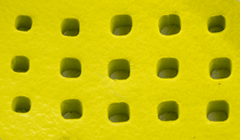 PowerGrid is a lightweight, ultra-premium cushioning foam that, ounce for ounce, delivers a smoother and more rebound-filled ride than the competition.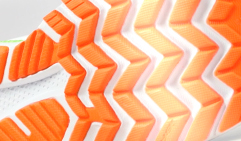 Increases force dispersion over a greater surface area while also delivering optimal flexibility and traction.