[com.demandware.component.catalog.image.ExternalMediaFile@418cd132, com.demandware.component.catalog.image.ExternalMediaFile@7b065eef, com.demandware.component.catalog.image.ExternalMediaFile@332a5552, com.demandware.component.catalog.image.ExternalMediaFile@4d91dc8b, com.demandware.component.catalog.image.ExternalMediaFile@6a33814a]
Alternate Views
Blink and you'll miss it. The Showdown is a lightweight high-end sprint spike that uses our revolutionary ISOFIT lacing system to morph to your foot for a sock-like feel.
Overview
Event: Track & Field
Surface: Track
Upper Details: With a new ISOFIT design Showdown is the ultimate spike for the runner seeking a high performance fit.
Bottom Unit Details: The Showdown uses a 10-pin spike plate making it our most aggressive spike on the market.
Weight: 5.9 oz. | 167 g.
Cheat Sheet: technical running term help!
Visit our glossary >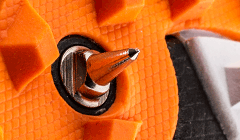 Track, trail, mud or pavement, be ready for anything with removable spikes.