Decisions, decisions. For the runner deciding which event is best, the Vendetta is the perfect racing shoe with a comfortable full body mesh plus a 6-pin spike plate and injection molded sole.
Overview
Event: Track & Field
Surface: Track
Upper Details: A full body mesh makes the Vendetta an incredibly comfortable fitting spike in our lineup.
Bottom Unit Details: A 6-pin spike plate and injection molded midsole make the Vendetta the ultimate spike for the runner trying to determine which event will suit them best.
Weight: 4.8 oz. | 136 g.
Cheat Sheet: technical running term help!
Visit our glossary >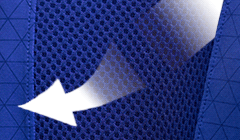 Breathing is good, whether you're a human or a piece of running gear. The materials in this product are designed to move moisture away from the skin, to keep you running dry and comfortable.
Track, trail, mud or pavement, be ready for anything with removable spikes.