Details
[{"id":"720026746699","quantity":0},{"id":"720026746705","quantity":0},{"id":"720026746712","quantity":0},{"id":"720026746729","quantity":0},{"id":"720026746736","quantity":0},{"id":"720026746743","quantity":0},{"id":"720026746750","quantity":0},{"id":"720026746767","quantity":0},{"id":"720026746774","quantity":0},{"id":"720026746781","quantity":0},{"id":"720026746798","quantity":0},{"id":"720026746804","quantity":0},{"id":"720026746811","quantity":0},{"id":"720026746828","quantity":0},{"id":"720026746552","quantity":0},{"id":"720026746569","quantity":0},{"id":"720026746576","quantity":0},{"id":"720026746583","quantity":0},{"id":"720026746590","quantity":0},{"id":"720026746606","quantity":0},{"id":"720026746613","quantity":0},{"id":"720026746620","quantity":0},{"id":"720026746637","quantity":0},{"id":"720026746644","quantity":0},{"id":"720026746651","quantity":1},{"id":"720026746668","quantity":0},{"id":"720026746675","quantity":0},{"id":"720026746682","quantity":0}]
Xodus ISO
C$ 118.99 Sale
C$ 169.99
2018-09-21T12:51:28.379Z
2019-09-21T12:51:28.379Z
CAD
118.99
InStock
What offers you more protection on the trail? A tank, maybe. The Xodus ISO is our most advanced trail offering ever, surrounding you with maximum protection for a rugged, aggressive ride that's still smooth and fluid.
Runners' World is a registered trademark of Rodale, Inc. All rights reserved.
OVERVIEW
Updated with EVERUN topsole construction providing smoother landings in the heel and reduced pressure in the forefoot
ISOFIT upper creates a dynamic fit system by adapting to the shape and motion of the runners foot
Internal Gusset construction keeps out debris
Molded toe shell provides protection and durability
Super-tacky PWRTRAC Rubber outsole provides 3x better traction than standard rubber
Awarded: Runner's World U.S. Editor's Choice, October 2016
SPECS
Shoe Category: Neutral
Pronation: Neutral
Cushion: Plush
Construction Type: Trail
Surface: OffRoad
Arch: High, Mid/High
Water Resistant: No
Waterproof: No
Offset: 4mm
Heel Stack Height: 24
Forefoot Stack Height: 20
Weight: 10.3 oz. | 292 g.
Cheat Sheet: technical running term help!
Visit our glossary >
product.drawers.technology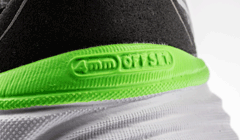 Shoes with a 4mm heel-to-toe offset deliver a more natural ride, letting your feet and body do more work while relying less on the shoes' cushioning and stability features.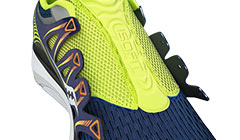 Revolutionary fit system that morphs to the foot for a custom feel.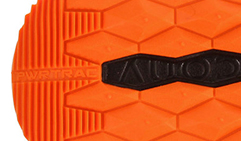 Tacky, durable rubber providing exceptional traction and abrasion resistance.