Details
[{"id":"720026084937","quantity":3},{"id":"720026084944","quantity":6},{"id":"720026084951","quantity":6},{"id":"720026084968","quantity":1},{"id":"720026084975","quantity":23},{"id":"720026084982","quantity":5},{"id":"720026084999","quantity":31},{"id":"720026085002","quantity":49},{"id":"720026085019","quantity":69},{"id":"720026085026","quantity":30},{"id":"720026085033","quantity":18},{"id":"720026085040","quantity":5},{"id":"720026085057","quantity":5},{"id":"720026085064","quantity":8},{"id":"801100216540","quantity":0},{"id":"801100216557","quantity":0},{"id":"801100216564","quantity":7},{"id":"801100216571","quantity":6},{"id":"801100216588","quantity":11},{"id":"801100216595","quantity":6},{"id":"801100216601","quantity":22},{"id":"801100216618","quantity":4},{"id":"801100216625","quantity":32},{"id":"801100216632","quantity":8},{"id":"801100216649","quantity":1},{"id":"801100216656","quantity":0},{"id":"801100216663","quantity":5},{"id":"801100216670","quantity":10}]
Integrity ST 2 Extra Wide
Malgré tout cet équipement de course, nous n'avons pas oublié les marcheurs. La Integrity ST2 possède notre populaire zone extensible à la pointe du pied pour un ajustement de cette zone plus confortable.
APERÇU
Coussinage réactif pour plus de confort à chaque pas
La zone extensible à la pointe du pied offre un ajustement plus confortable et clément à la pointe du pied
SPÉCIFICATIONS
Catégorie de chaussure : Marche
Pronation : Normale
Résiste à l'eau : Non
Imperméabilité : Non
Déviation : 12 mm
INTEGRITY ST2 INFOGRAPH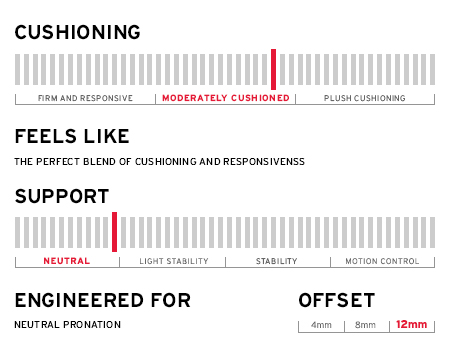 Cushioning
The underfoot feel and amount of impact protection provided by the compressing materials between the foot and running surface.
Support
The level of pronation control built into the shoe. Pronation is the inward rolling of the ankle through the gait cycle.
Offset
The difference in height between the heel thickness and forefoot thickness of the shoe.