Details
[{"id":"883799387213","quantity":0},{"id":"883799387220","quantity":0},{"id":"883799387237","quantity":0},{"id":"883799387244","quantity":1},{"id":"883799387251","quantity":2},{"id":"883799387268","quantity":2},{"id":"883799387275","quantity":1},{"id":"883799387282","quantity":2},{"id":"883799387299","quantity":1},{"id":"883799387305","quantity":1},{"id":"883799387312","quantity":1},{"id":"883799387329","quantity":0},{"id":"883799387336","quantity":0},{"id":"883799387343","quantity":0},{"id":"883799387497","quantity":0},{"id":"883799387503","quantity":0},{"id":"883799387510","quantity":1},{"id":"883799387527","quantity":1},{"id":"883799387534","quantity":1},{"id":"883799387541","quantity":1},{"id":"883799387558","quantity":1},{"id":"883799387565","quantity":0},{"id":"883799387572","quantity":0},{"id":"883799387589","quantity":1},{"id":"883799387596","quantity":1},{"id":"883799387602","quantity":0},{"id":"883799387619","quantity":0},{"id":"883799387626","quantity":0},{"id":"884401810228","quantity":0},{"id":"884401810235","quantity":0},{"id":"884401810242","quantity":13},{"id":"884401810259","quantity":14},{"id":"884401810266","quantity":28},{"id":"884401810273","quantity":22},{"id":"884401810280","quantity":35},{"id":"884401810297","quantity":9},{"id":"884401810303","quantity":10},{"id":"884401810310","quantity":3},{"id":"884401810327","quantity":1},{"id":"884401810334","quantity":8},{"id":"884401810341","quantity":2},{"id":"884401810358","quantity":0},{"id":"884401810082","quantity":0},{"id":"884401810099","quantity":0},{"id":"884401810105","quantity":0},{"id":"884401810112","quantity":0},{"id":"884401810129","quantity":0},{"id":"884401810136","quantity":0},{"id":"884401810143","quantity":0},{"id":"884401810150","quantity":0},{"id":"884401810167","quantity":0},{"id":"884401810174","quantity":0},{"id":"884401810181","quantity":0},{"id":"884401810198","quantity":0},{"id":"884401810204","quantity":0},{"id":"884401810211","quantity":0},{"id":"883799387350","quantity":0},{"id":"883799387367","quantity":0},{"id":"883799387374","quantity":0},{"id":"883799387381","quantity":0},{"id":"883799387398","quantity":0},{"id":"883799387404","quantity":0},{"id":"883799387411","quantity":0},{"id":"883799387428","quantity":0},{"id":"883799387435","quantity":0},{"id":"883799387442","quantity":0},{"id":"883799387459","quantity":0},{"id":"883799387466","quantity":0},{"id":"883799387473","quantity":0},{"id":"883799387480","quantity":0},{"id":"884547870223","quantity":0},{"id":"884547870230","quantity":0},{"id":"884547870247","quantity":0},{"id":"884547870254","quantity":0},{"id":"884547870261","quantity":0},{"id":"884547870278","quantity":0},{"id":"884547870285","quantity":0},{"id":"884547870292","quantity":0},{"id":"884547870308","quantity":0},{"id":"884547870315","quantity":0},{"id":"884547870322","quantity":0},{"id":"884547870339","quantity":0},{"id":"884547870346","quantity":0},{"id":"884547870353","quantity":0},{"id":"884401810365","quantity":0},{"id":"884401810372","quantity":0},{"id":"884401810389","quantity":0},{"id":"884401810396","quantity":0},{"id":"884401810402","quantity":1},{"id":"884401810419","quantity":2},{"id":"884401810426","quantity":2},{"id":"884401810433","quantity":1},{"id":"884401810440","quantity":2},{"id":"884401810457","quantity":0},{"id":"884401810464","quantity":1},{"id":"884401810471","quantity":0},{"id":"884401810488","quantity":0},{"id":"884401810495","quantity":0},{"id":"884547870360","quantity":0},{"id":"884547870377","quantity":0},{"id":"884547870384","quantity":0},{"id":"884547870391","quantity":0},{"id":"884547870407","quantity":0},{"id":"884547870414","quantity":0},{"id":"884547870421","quantity":0},{"id":"884547870438","quantity":0},{"id":"884547870445","quantity":0},{"id":"884547870452","quantity":0},{"id":"884547870469","quantity":0},{"id":"884547870476","quantity":0},{"id":"884547870483","quantity":0},{"id":"884547870490","quantity":0},{"id":"884401810631","quantity":0},{"id":"884401810648","quantity":0},{"id":"884401810655","quantity":0},{"id":"884401810662","quantity":0},{"id":"884401810679","quantity":0},{"id":"884401810686","quantity":0},{"id":"884401810693","quantity":0},{"id":"884401810709","quantity":0},{"id":"884401810716","quantity":0},{"id":"884401810723","quantity":0},{"id":"884401810730","quantity":0},{"id":"884401810747","quantity":0},{"id":"884401810754","quantity":0},{"id":"884401810761","quantity":0},{"id":"883799387633","quantity":0},{"id":"883799387640","quantity":0},{"id":"883799387657","quantity":0},{"id":"883799387664","quantity":0},{"id":"883799387671","quantity":0},{"id":"883799387688","quantity":0},{"id":"883799387695","quantity":0},{"id":"883799387701","quantity":0},{"id":"883799387718","quantity":0},{"id":"883799387725","quantity":0},{"id":"883799387732","quantity":0},{"id":"883799387749","quantity":0},{"id":"883799387756","quantity":0},{"id":"883799387763","quantity":0},{"id":"884401809956","quantity":4},{"id":"884401809963","quantity":4},{"id":"884401809970","quantity":12},{"id":"884401809987","quantity":15},{"id":"884401809994","quantity":22},{"id":"884401810006","quantity":29},{"id":"884401810013","quantity":38},{"id":"884401810020","quantity":25},{"id":"884401810037","quantity":27},{"id":"884401810044","quantity":10},{"id":"884401810051","quantity":21},{"id":"884401810068","quantity":5},{"id":"884401810075","quantity":5}]
Intensifiez votre style en tout confort pour vos pieds grâce à la nouvelle chaussure Liteform Feel. Les mailles ou matériaux textiles de performance au style visuellement dynamique offrent tous deux une expérience de course de premier plan, tout en procurant une allure fantastique tout au long de la journée. Sans oublier la doublure qui « s'ajuste à vous » et la semelle intermédiaire EVA ou semelle extérieure qui amortit chacun de vos pas.
Overview
A choice of mesh or textile uppers for comfort and style
FORM2U Memory Foam sockliner
Molded EVA midsole and outsole for a great ride
Refined TRI-FLEX outsole design provides greater ground contact and flexibility
Specs
Shoe Category: Neutral
Pronation: Neutral
Cushion: Memory Foam
Surface: Road
Cheat Sheet: check out our
technical running terms guide >
product.drawers.technology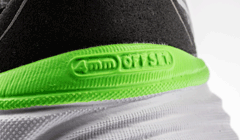 Des chaussures dotées d'une déviation de 4 mm du talon à la pointe qui offrent une sensation plus naturelle, permettant à vos pieds et à votre corps de fournir davantage d'efforts tout en se fiant moins sur le coussinage et la stabilité des chaussures.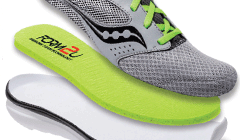 Une assise plantaire en mousse mémoire fournit un confort ultra molletonné toute la journée.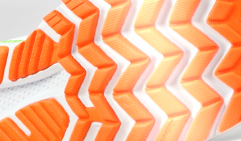 Améliore la dispersion de la force sur une plus grande surface tout en offrant une flexibilité et une adhérence optimales.