Details
[{"id":"883799371038","quantity":11},{"id":"883799371045","quantity":3},{"id":"883799371052","quantity":22},{"id":"883799371069","quantity":12},{"id":"883799371076","quantity":43},{"id":"883799371083","quantity":34},{"id":"883799371090","quantity":43},{"id":"883799371106","quantity":41},{"id":"883799371113","quantity":22},{"id":"883799371120","quantity":5},{"id":"883799371137","quantity":9},{"id":"883799371144","quantity":0},{"id":"883799371151","quantity":0},{"id":"883799371168","quantity":0}]
Faites un pied de nez au mauvais temps avec le Peregrine 7 Runshield. Polyvalent dans les sentiers hors-piste, le Peregrine 7 Runshield s'adapte à tous les types de terrain grâce à sa semelle d'usure PWR TRAC ultra antidérapante.  La tige Flexshell offre durabilité et protection contre les intempéries, alors que la semelle supérieure EVERUN amortit tous les chocs avec résilience et énergie. 
Overview
PWRTRAC outsole for optimal grip and traction across multiple surfaces
Newly added EVERUNTM Topsole construction for enhanced energy return and continuous cushioning throughout the run
RUNDRY Collar Lining wicks moisture away quickly
External heel support for lockdown fit and hold
FLEXSHELL delivers durability and weather protection in a flexible, dynamic fit
Specs
Shoe Category: Neutral
Pronation: Neutral
Cushion: Responsive
Construction Type: Trail
Surface: Trail, Grass
Arch: Normal (Mid)
Water Resistant: Yes
Waterproof: No
Offset: 4mm

Heel Stack Height: 21.5mm
Forefoot Stack Height: 17.5mm
Weight: 9.6 oz. | 272 g.


Cheat Sheet: check out our technical running terms guide >
product.drawers.technology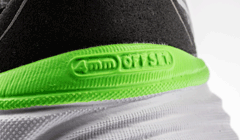 Des chaussures dotées d'une déviation de 4 mm du talon à la pointe qui offrent une sensation plus naturelle, permettant à vos pieds et à votre corps de fournir davantage d'efforts tout en se fiant moins sur le coussinage et la stabilité des chaussures.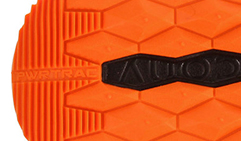 Un caoutchouc épais et durable offrant une adhérence et une résistance au frottement exceptionnelles.