Details
[{"id":"884401254794","quantity":0},{"id":"884401254800","quantity":0},{"id":"884401254817","quantity":0},{"id":"884401254824","quantity":1},{"id":"884401254831","quantity":2},{"id":"884401254848","quantity":2},{"id":"884401254855","quantity":3},{"id":"884401254862","quantity":0},{"id":"884401254879","quantity":1},{"id":"884401254886","quantity":1},{"id":"884401254893","quantity":3},{"id":"884401254909","quantity":0},{"id":"884401254916","quantity":0},{"id":"884401254923","quantity":0},{"id":"884401254930","quantity":0},{"id":"884401254947","quantity":0},{"id":"884401254954","quantity":0},{"id":"884401254961","quantity":0},{"id":"884401254978","quantity":0},{"id":"884401254985","quantity":0},{"id":"884401254992","quantity":0},{"id":"884401255005","quantity":0},{"id":"884401255012","quantity":0},{"id":"884401255029","quantity":0},{"id":"884401255036","quantity":0},{"id":"884401255043","quantity":0},{"id":"884401255050","quantity":0},{"id":"884401255067","quantity":0}]
The Vendetta 2 is a racing shoe built for speed and for comfort. This spike is great for middle distance rookies trying to discover their best event and for veterans working to take their racing to the next level. Find new finish lines in the new Vendetta 2.
Overview
6-pin spike plate
Breathable mesh upper
Molded EVA midsole
Durable rubber outsole
400m-5k
Specs
Surface: Track
Water Resistant: No
Water Proof: No
Weight: 4.8 oz. | 136 g.
Cheat Sheet: check out our
technical running terms guide >
product.drawers.technology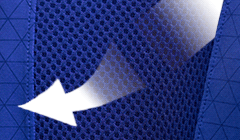 Respirer est bien, que vous soyez un humain ou une pièce d'équipement de course. Les matériaux de ce produit sont conçus pour éloigner l'humidité de la peau, afin de vous assurer une course au sec et confortable.
Piste, sentier, boue ou pavé, préparez-vous à toute éventualité avec les crampons amovibles.