Your serious liftoff calls for serious tech, like FLEXFILM and ISOFIT, added to the Soarin J2 upper to help support and shape it to your foot. Plus, a midfoot cross strap holds your foot in place, while the highly rigid spike plate propels you forward for the win.
Overview
Event: LJ, TJ, & PV
Surface: Track
ISOFIT system provides stabilizing support while adapting to the movement of the foot
FLEXFILM upper is lightweight and supportive
Midfoot cross-strap locks foot to platform
Die-cut EVA midsole provides underfoot cushioning
8-pin Pebax® highly rigid spike plate designed to maximize take off for Long Jump, Triple Jump, and Pole Vault
Weight: 8.9 oz. | 255 g.
Cheat Sheet: check out our
technical running terms guide >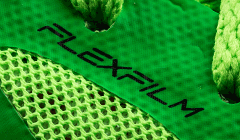 A strong, lightweight material is melded to the upper, which allows for fewer layers in the shoe. The result is a seamless, flexible feel.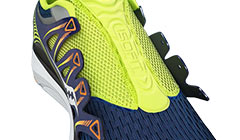 Revolutionary fit system that morphs to the foot for a custom feel.