Just Another Hill: Andrea's parkrun Story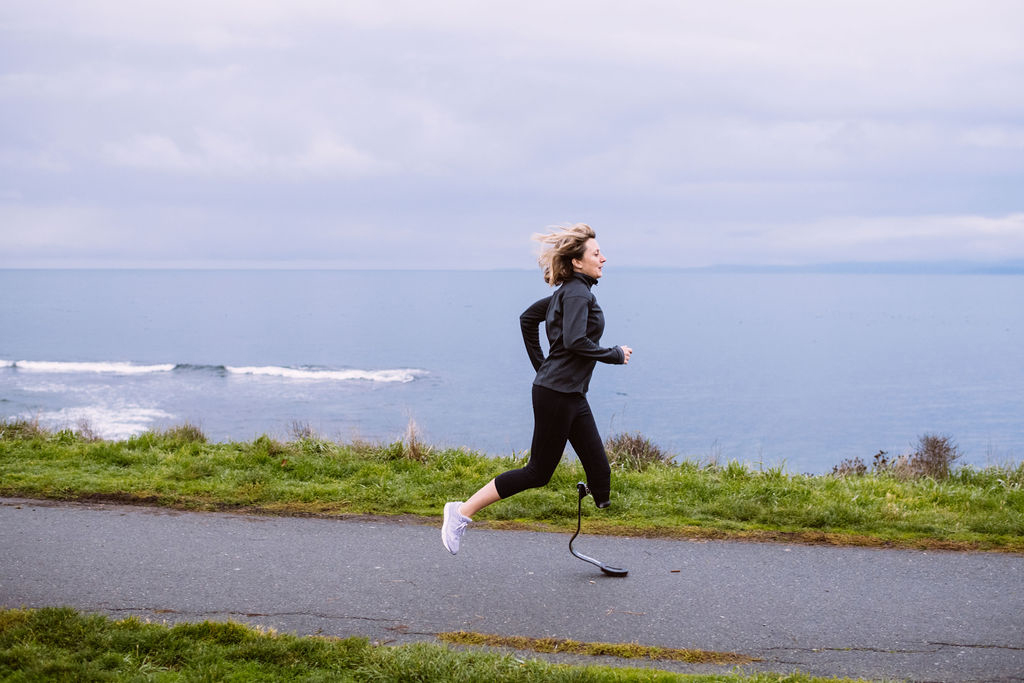 Andrea Swallow has always loved to run. As a kid she relished the feeling of moving fast and fluid over the short, explosive distances of the sprints. She graduated to longer distances as she began to use running to help calm the stresses of the teenage years. Out on her own, on the pavement or the trail, she could feel strong, independent and free.
At sixteen, Andrea was involved in a motorcycle accident that left her with numerous serious injury – and would take her lower left leg. Three and a half months, thirteen operations, and immeasurable support from friends and family helped her get back up from what felt like rock bottom for such an athletic soul. Even still, the dream of running felt lost forever.
Then, four years ago, through the help of her prosthetist and the War Amps of Canada, Andrea was fitted with an Ottobock running blade that has brought the dream sailing back, as well as a new-found confidence in her attitude and abilities as an amputee.
Recently, Andrea took part in her first parkrun at Clover Point in Victoria, BC. We asked her to take us with her through her day, and to provide us with a firsthand account of what it means to turn challenges into possibilities.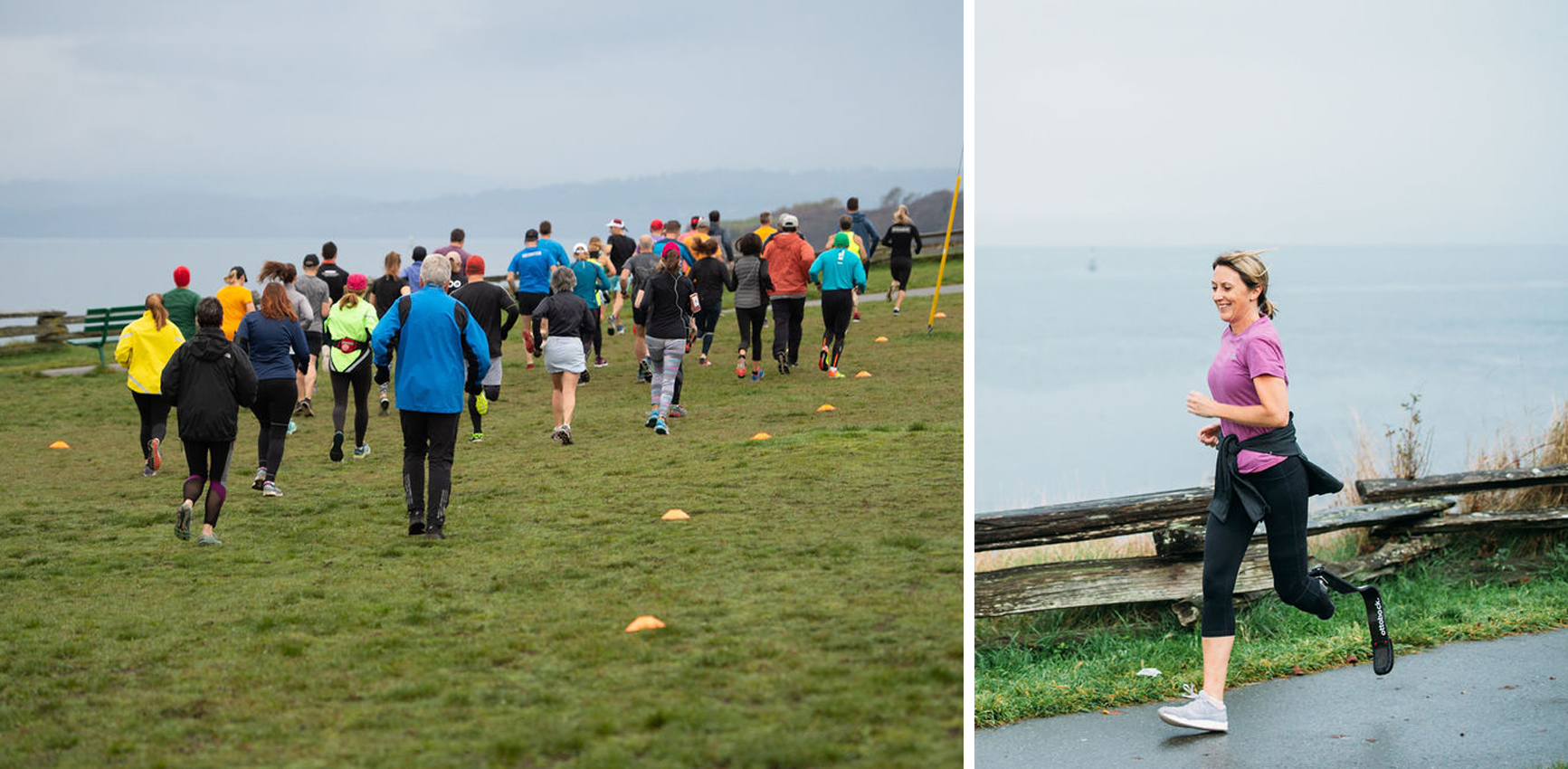 7:35
Nyla and I arrive at Clover Point, a beautiful vista overlooking the Dallas Road waterfront and the Olympic Mountain Range. The sun is shining and warm on our faces, and the day promises to be full of possibilities…
7:40
In true amputee fashion, I unpack my extra leg, which today is my running blade. I remove my everyday leg and fit it on, careful to get it just right. No pinching, pressure areas, or folds in the liner. Looking for absolute comfort every time!
7:50
My blade on, we ask some fellas walking by if they are joining parkrun as well. Their friendly faces and easy demeanor put us at ease.
7:53
We meet at the parkrun flag area higher up the hill where we can see an obvious group forming. Looks about 30-40 people? We feel, and most certainly look, like fish out of water, but there are so many smiling faces to welcome us and we are immediately greeted by Ed. He reassures that this run is for everybody, and I understand that to mean every body!
I relax and remind myself that every time I put myself out there, regardless of how vulnerable I may feel as an obvious minority, I am representing diversity, standing for inclusion, and hopefully sharing with others that life carries on after limb loss. The most important aspect in any person's life, regardless of ability, is finding what fuels them and what brings them joy. Running is one of those things for me.
8:00
It's time! We stick to the back of the pack where it feels most comfortable to start, the new kids in the class. The start is on a grassy, pitted, sloping area which is hard to navigate with a prosthetic leg. Not far to cement pathway, though. Do-able! Kinda wondering what I got myself into…
Without proprioception, an amputee relies on visuals to tell where her prosthetic limb is, and what she needs to know about the ground to anticipate her next step forward. With a flat prosthetic foot surface, any uneven ground can affect your balance. The surface area of a blade is even less than an everyday prosthetic foot. It's similar to being on the tips of your toes.
8:05
Slight incline now. Cool air caresses my arms. Sun on our backs. Salt air inhaled with every breath. A seriously beautiful route to start a morning with… Run. Walk. Laugh. Run. There's a pattern this morning and I'm good with it. I want to enjoy this experience. I am not competing with anyone other than myself, but am also inspired by what I see in front of me.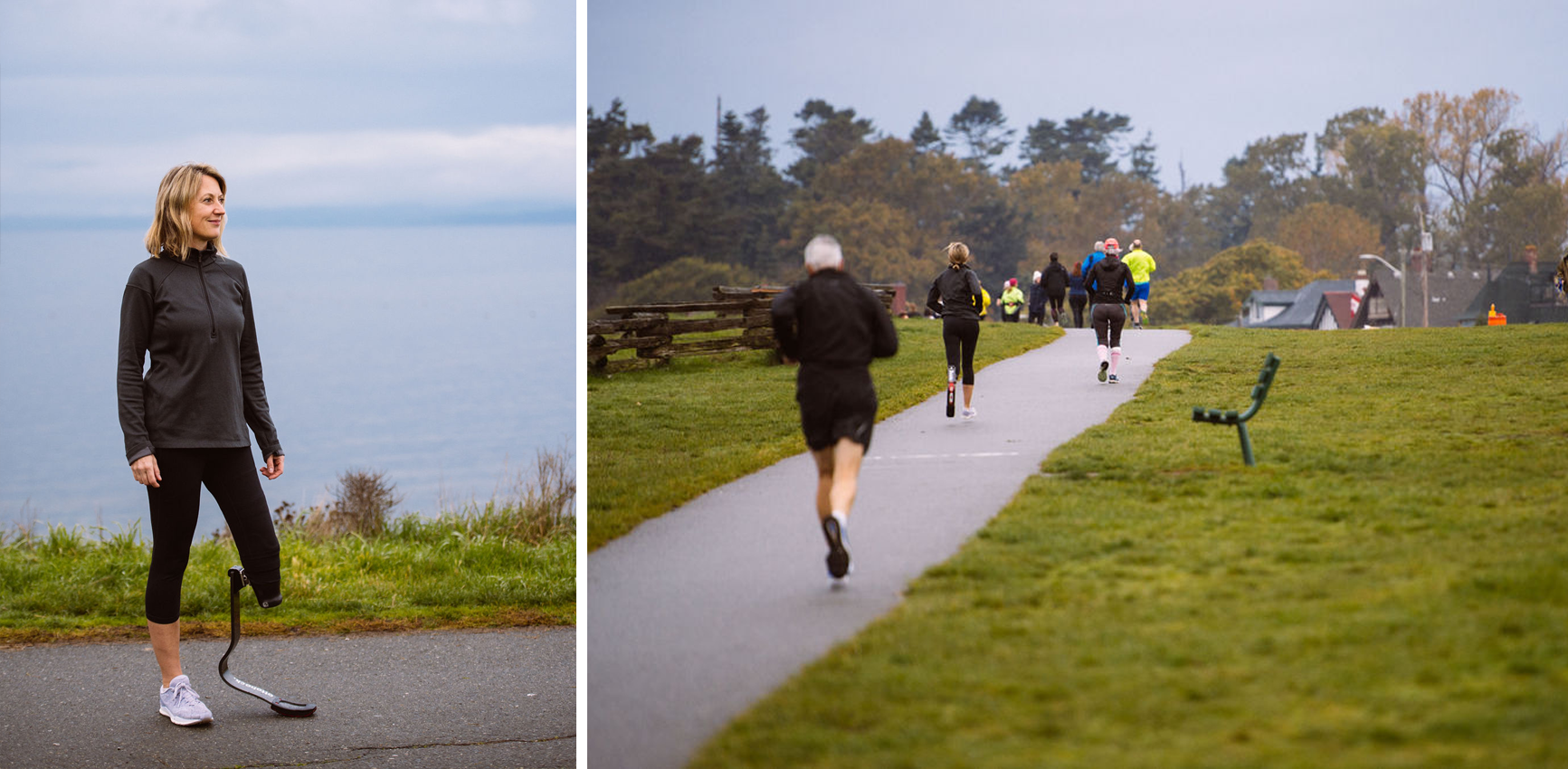 8:18
Carmel comes up and runs beside us. She tells us how we've inspired her to run. That it's been a struggle for her these last few weeks with an Achilles injury. She was feeling grouchy this morning and frustrated with her body. And now here she is, right beside us – unknowingly inspiring us as well.
8:23
Here comes the decline – I like those! Volunteers all along the route with a smile and encouragement. We're passing by runners on their return now. Nods of recognition and hellos. Lots of 'Way-to-go's happening!
8:35
My blade is starting to feel loose. This is what happens when I exert a lot of energy and sweat. Things start to feel like they're going to fall off! I pull up the sleeve that holds my leg on and keep going.
The average lower-limb-amputee uses between 45-55% more energy than an able-bodied person. Because of this, plus reduced skin surface area, we also sweat more than the average person. Add to this the extra layers needed to attach a prosthesis, and in a warm, damp environment, irritation and infection can occur quickly.
8:43
Coming up to the finish now. We notice that everyone has stuck around! Slightly nervous about this as we were definitely behind the majority. My leg is sore, I'm tired and happy to know we're so close.
8:45
The pitted grassy area of the finish is my last challenge to get past without somehow falling on my face! Bound and determined to not finish that way if I can help it!
8:46
Clapping and cheering bring us across the line. Done!!!
Today's experience was eye opening for me. The enthusiasm and inclusion that parkrun attendees and volunteers embody is evident from start to finish. This encourages me. I've searched the last couple years to find another amputee locally to run with. However, now I see that maybe it's about a bigger picture... something beyond the scope of what we ourselves imagine, something different and quite possibly something greater. This is what it means to be a part of a 'community'.
To see what you can accomplish over 5K, look out for a parkrun happening in your area. If you can't find one, we can help you start one! Check out all the info at parkrun.ca, and we'll you in the park!