Details
[{"id":"884547983787","quantity":0},{"id":"884547983794","quantity":0},{"id":"884547983800","quantity":0},{"id":"884547983817","quantity":0},{"id":"884547983824","quantity":0},{"id":"884547983831","quantity":0},{"id":"884547983848","quantity":0},{"id":"884547983855","quantity":0},{"id":"884547983862","quantity":0},{"id":"884547983879","quantity":0},{"id":"884547983886","quantity":0},{"id":"884547983893","quantity":0},{"id":"884547983909","quantity":0},{"id":"884547983916","quantity":0},{"id":"884547983923","quantity":0},{"id":"884547888419","quantity":8},{"id":"884547888426","quantity":12},{"id":"884547888433","quantity":87},{"id":"884547888440","quantity":129},{"id":"884547888457","quantity":178},{"id":"884547888464","quantity":238},{"id":"884547888471","quantity":252},{"id":"884547888488","quantity":210},{"id":"884547888495","quantity":212},{"id":"884547888501","quantity":149},{"id":"884547888518","quantity":83},{"id":"884547888525","quantity":39},{"id":"884547888532","quantity":8},{"id":"884547888549","quantity":0},{"id":"884547888556","quantity":0},{"id":"884547888266","quantity":0},{"id":"884547888273","quantity":0},{"id":"884547888280","quantity":0},{"id":"884547888297","quantity":0},{"id":"884547888303","quantity":0},{"id":"884547888310","quantity":0},{"id":"884547888327","quantity":0},{"id":"884547888334","quantity":0},{"id":"884547888341","quantity":0},{"id":"884547888358","quantity":0},{"id":"884547888365","quantity":0},{"id":"884547888372","quantity":0},{"id":"884547888389","quantity":0},{"id":"884547888396","quantity":0},{"id":"884547888402","quantity":0}]
'Stiff, clunky, and heavy' might describe your boots, but it should never describe your trail running shoes. New from the ground up, the Xodus ISO 3 takes our award winning cushioning system to the max by making the midsole entirely from EVERUN
TM
. Add in ISOFIT for comfort, PWRTRAC for grip, and it's time to go discover new views.
Learn More
Overview
Successor to the Xodus ISO 2
Full-length EVERUNTM midsole for continuous cushioning throughout the run
Trail-specific ISOFIT dynamic upper
External support frame for added protection and a lockdown heel fit
Engineered mesh
Dual compound PWRTRAC + XT-900 outsole design for rugged durability and traction across a multitude of surfaces
Specs
Shoe Category: Trail
Pronation: Neutral
Cushion: Moderate
Construction Type: Trail
Surface: Trail
Arch: Normal (Mid)
Water Resistant: No
Waterproof: No
Offset: 4mm
Heel Stack Height: 26.5
Forefoot Stack Height: 22.5
Weight: 12.9 oz. | 366 g.
Cheat Sheet: check out our
technical running terms guide >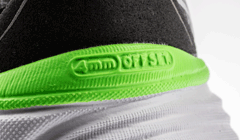 Chaussure dotée d'un drop de 4 mm du talon à la pointe pour une foulée plus naturelle. Les pieds et le corps font plus d'efforts et dépendent moins de l'amorti et de la stabilité de la chaussure.
Une avancée majeure en matière d'amorti. Ce système d'amorti est plus dynamique et réactif, pour des réceptions tout en douceur et des poussées puissantes.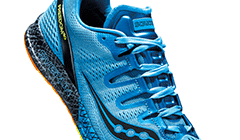 Tige au design révolutionnaire qui épouse la forme du pied pour un confort personnalisé.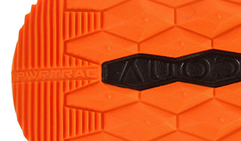 Caoutchouc solide et adhérent, offrant une accroche exceptionnelle et une résistance optimale à l'abrasion.