From the road to the trails and beyond, the KOA TR is the perfect women's neutral running shoe for you. Featuring a PWR TRAC outsole with a lower lug height, the KOA TR has a great underfoot feeling on hard surfaces but enough 'teeth' and grip to keep you sure-footed on uneven surfaces. An EVERUNTM topsole provides extra energy return to every foot strike, while the reinforced upper protects and locks down the foot. It's great for hiking too!
Overview
Ultra-grippy PWR TRAC outsole with lower (3.5mm) tread pattern for a great road-to-trail feel
Oblique toebox allows for maximum splay at toe-off for added stability
3mm EVERUNTM topsole construction for continuous cushioning throughout the run
Durable, woven upper mesh for added protection
Reinforced heel piece for protection and a lockdown fit
Specs
Shoe Category: Trail
Pronation: Neutral
Cushion: Responsive
Construction Type: Trail
Surface: Trail, Grass
Arch: Normal (Mid)
Water Resistant: No
Waterproof: No
Offset: 4mm

Heel Stack Height: 22mm
Forefoot Stack Height: 18mm
Weight: 9.0 oz. | 255 g.


Cheat Sheet: check out our technical running terms guide >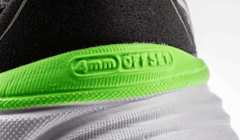 Shoes with a 4mm heel-to-toe offset deliver a more natural ride, letting your feet and body do more work while relying less on the shoes' cushioning and stability features.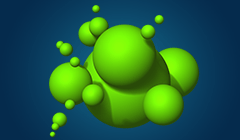 A breakthrough in cushioning. Livelier and more responsive, with smoother landings and stronger takeoff.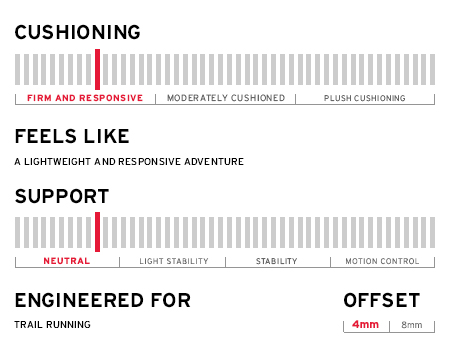 Cushioning
The underfoot feel and amount of impact protection provided by the compressing materials between the foot and running surface.
Support
The level of pronation control built into the shoe. Pronation is the inward rolling of the ankle through the gait cycle.
Offset
The difference in height between the heel thickness and forefoot thickness of the shoe.