TRINIDAD JAMES Recording artist. Sneaker Head. Philanthropist. Runner
Trinidad James has a passion rooted in education for underserved communities, a love of sneaker culture, and has built a career as a stylist and musical artist. Constantly on the run and a true embodiment of the Saucony Originals lifestyle, explore Trinidad's favorite looks, and read on for his journey.
Q: What's a typical day in the life of Trinidad James? A: I get up at 5AM to get an early start on things. I meditate for a little bit, do some research if I'm working on a creative project, get a workout in, and then hit the studio or go shopping if i'm styling a project.
Q: Where do you spend most of your time? A: I'm a traveling nomad. I don't live anywhere. I'm just "there." I'm always doing my homework in every city — looking for the culture, the Black-owned restaurants, trying to see what the kids are up to. The things that matter, the things that allow us to really be somewhere. I love the beautiful chaos that I curated for myself because it allows me to be the best version of myself for all my clients and all my projects.
Q: What's your creative process like? Where do you find inspiration? A: I don't necessarily have a ritual, but I would say more like I try to lock in a formula. What I really pay attention to is what's going on in front of me compared to looking too far out - often, the answer is around me. I keep a lot of nostalgia and a lot of inspirational things around me, like artwork and different pieces from different areas when it comes to clothes and shoes and different books from different designers. I hang with designers because fashion is my first passion. And that's where I come from, being a stylist and running a men's boutique before I ever got into music.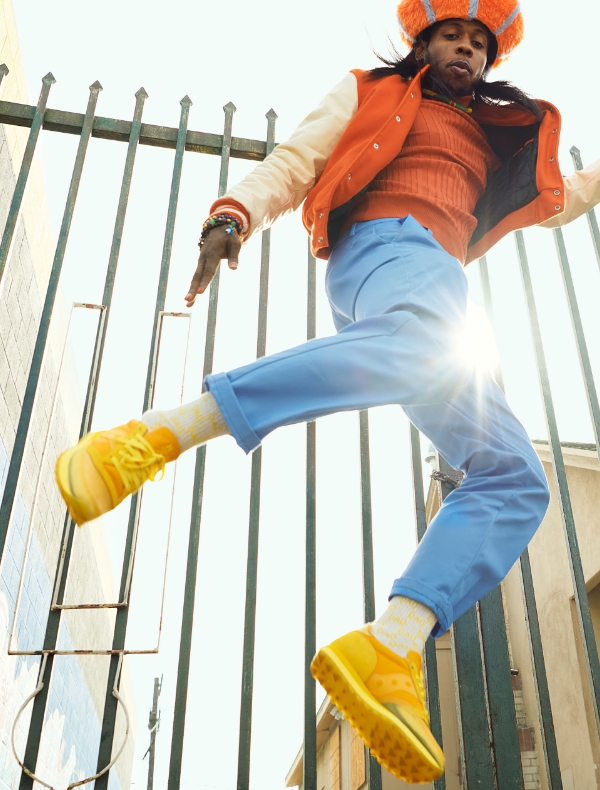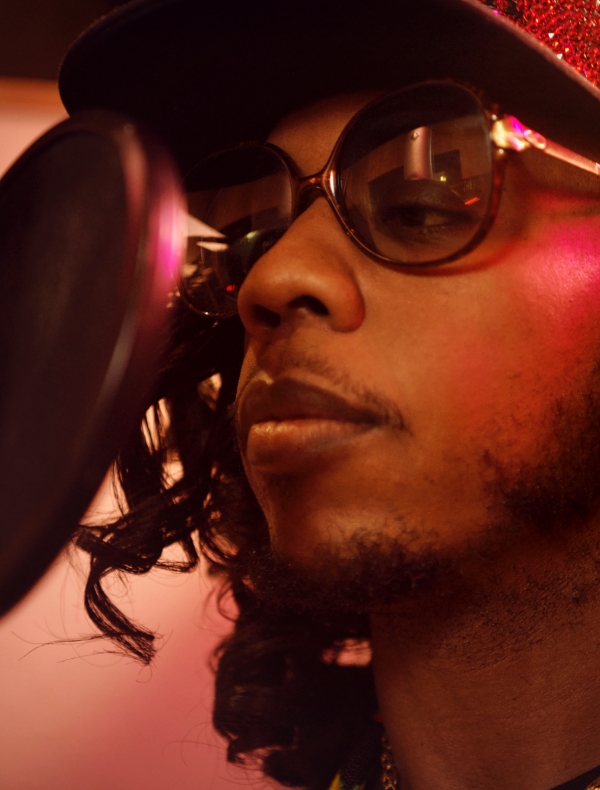 I love the beautiful chaos I curated for myself — it allows me to be the best version of myself.
Q: What's your style philosophy? A: For me, if I put it on, it looks good, but that's just my confidence. That's just how I feel, because it's good for me. I'm not doing it for it to be good for you. And so with that confidence and my style, I started to really be a brand identity.
Q: What was your professional journey like? Did you always want to go into music? Did fashion come first? A: It was styling before musicianship. I didn't get a scholarship and I didn't pursue my basketball or football dreams to play sports, so I didn't go to college. I started working at a very early age of 14 years old and I've had every job under the sun. I started off as a landscaper. I worked in a moving company. I worked as a cook and a waiter at Waffle House. I've run boutiques in the mall, but my dream job was to work at a very popular boutique - my dream job was always in clothing. I loved sneakers the most and I'd put together outfits that weren't traditional, airbrushing and designing my own pieces or just buying things that nobody else would buy. My first job in clothing was a boutique called Ginza GMC. The owner knew he could trust me because I wasn't just somebody that wanted a job (I already had a job at Waffle House), but I had passion for his store and product. So I'd work at Waffle House at night then open the boutique at 11 a.m. It was crazy and I did that as long as I could until I went full time with Ginza. That was the dream job for me. And in the midst of that, I started making that boutique more well known, putting my flavor, my taste into it, attracting style-setters and celebrities coming in for products that no one else had (like snap back hats). That's how I ultimately got connected to the music scene, too. These musicians were shopping with me before I ever touched the microphone. It really gave me the confidence to realize after about three years that I could do music just like these guys are coming to me for a style.
SHOP Trinidad'S FAVORITES
Whether he's on the run or out for a run, Trinidad's style is original. Explore his essentials including the Jazz 81, his latest collaboration shoe out now.
What I really wanted to do was to do more for the community.
Q: You're so passionate about community - when did that first develop and become such a priority for you? A: When we dropped my first hit single, everything changed. I got to see places I'd never imagine I'd see. But there was a lot of depression, too. In the midst of all of that, I felt that I wasn't doing anything for the community — with all this money and fame and clout, I wasn't doing enough. Right before I left Atlanta for Los Angeles in 2015, I held a sneaker drive for the less fortunate and I knew that when I moved to L.A., that was the first thing I needed to do. Before making money, I had to get my purpose, my charity game, on point. When you put the right intentions on your heart it starts to manifest itself because subconsciously this is what you want. What I really wanted was to do more for the community.
Q: What's one of your earliest memories of this charitable / community-driven purpose? What stands out to you as something you're immensely proud of? A: It was when I moved to LA — I was introduced to the Crenshaw area of California and organized charitable programs for Crenshaw High School. The first charity celebrity basketball game that we held had celebrities playing against Crenshaw HS alumni. Entry to the game was free if you brought a pair of gently used sneakers to donate. The late Nipsey Hussle played in my first game. That really opened the door because that first game, we raised 1100 pairs of sneakers. Fast forward to now and I'm designing school uniforms for Crete Academy, that's my biggest accomplishment in life. And then to shoot this film with Saucony at Crete Academy with those kids, in the uniforms I designed — it's magic.
Q: You've said you wanted to show children that there's more to life than just sports. What did you mean by that? A: Being from Trinidad, there aren't as many things that get you off the island. So you can play cricket, you can play soccer, you can go to the Olympics or you can go to school. You see it even more in the Black community. Sports is the thing. This is coming from me, who came as an immigrant, worked every job, made it as a successful artist and now a designer. I want to continue to be that example — to show that you don't have to settle for what you assume people want you to do. You've got to keep yourself physical and stay in shape. Basketball is my number one sport these days. I used to run track, now I run on a treadmill. I'll toss the football with the kids at Crete Academy. I love sports. But you can do those things and still be something else. This is why, for me, the message Saucony is trying to send about runners and inclusivity is incredible - it feels like poetry. It opens the door for more communities who don't know the importance of a good running shoe and comfort or have the access to know about marathons. ■