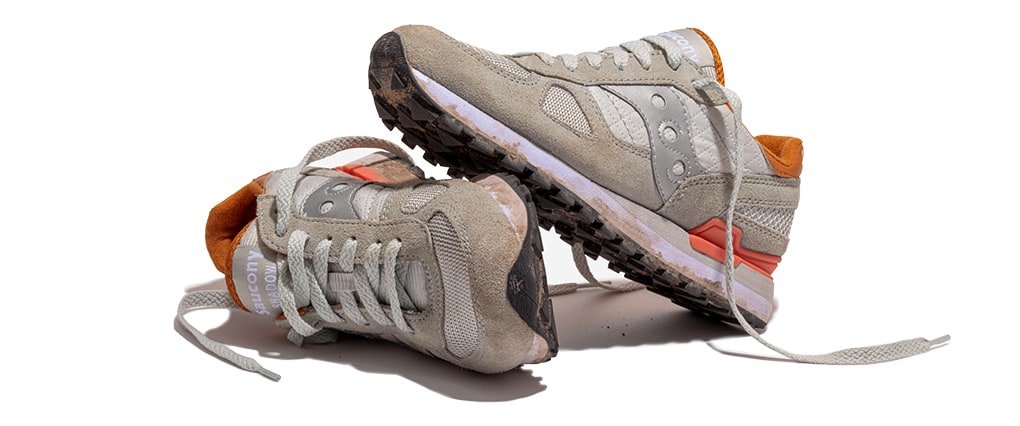 SHADOW
The Shadow Original is a staple silhouette in Saucony history. First introduced in 1985 as a performance trainer, the Shadow Original still has that same comfort and stability of the original. With the mesh, nylon and that marshmallowy EVA you've come to know and love, the Shadow Originals is an all-in-one fashion sneaker.
From The Archives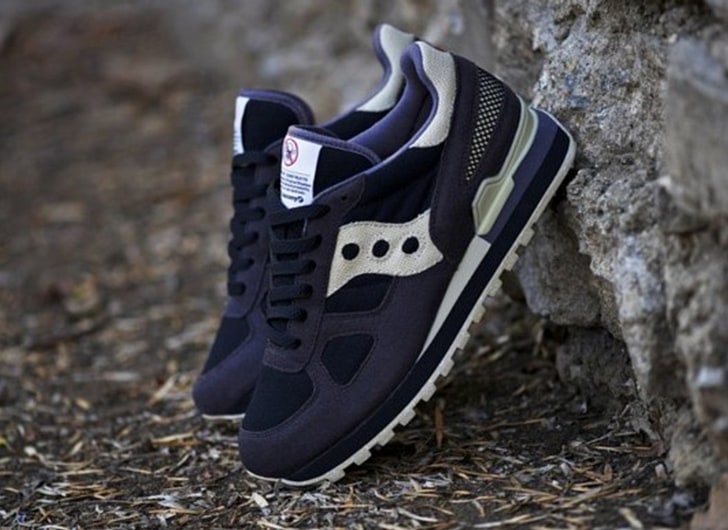 Bait "Cruel World" Shadow Original
Always doing things their own way, BAIT partnered with Saucony for a series of collaborations under the theme of "Cruel World". Described as an "opposition piece", Bait wanted to expand Saucony's vegan-material product assortment, and bring it to the streetwear community. Combining vegan suede, hemp textures, and a cork footbed, the BAIT "Cruel World" was a statement making, instant sell-out. BAIT also committed a portion of the proceeds to a non-profit youth center in South Central, Los Angeles, that focused on programs in the arts, athletics, dance, and music.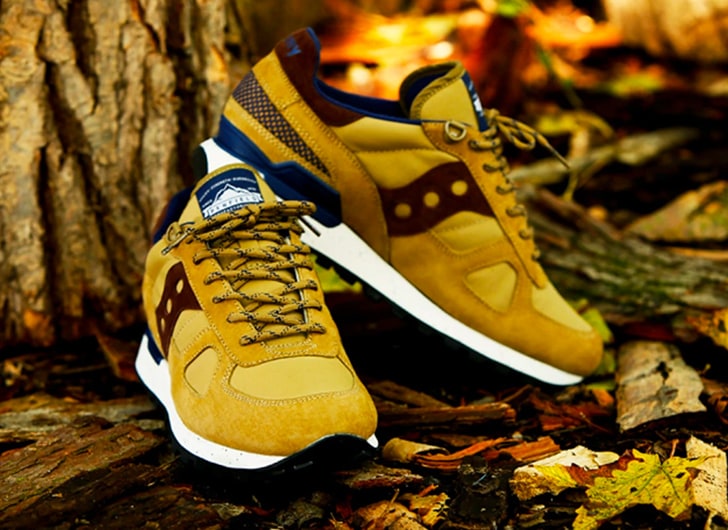 Penfield "60/40"
Shadow Original Pack
Teaming up with fellow Massachusetts brand Penfield, a 3-pack of Shadow Originals released in 2014, showcasing Penfield's prowess for outdoor aesthetics. 3 colors were launched, each featuring windproof and waterproof 60/40 cotton nylon material, which is regularly featured in the brand's apparel collections. Each sneaker also finished with Penfield branding, trail themed rope laces and a D-ring lace loop that reinforced the outdoor theme.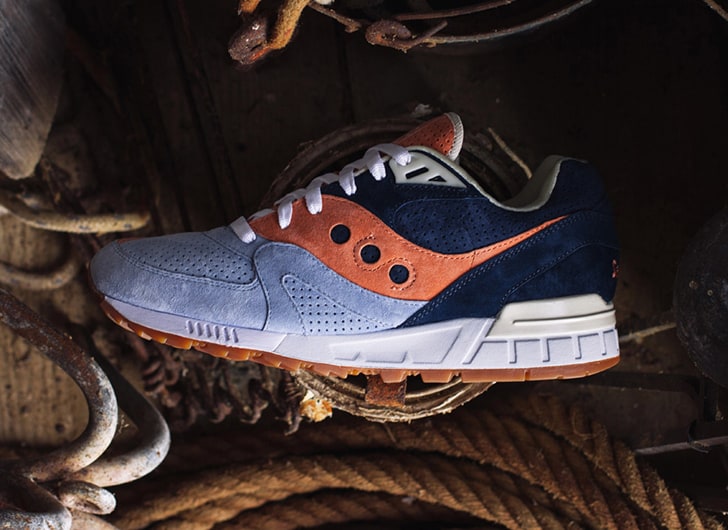 Ubiq "Antlantic Tide" Shadow Master
Philadelphia natives pay homage to the East Coast with a Shadow Master that featured a mix of calming blue suedes, and creamy orange accents. The signature Ubiq star logo appeared on a woven label tongue, and this special edition of the Shadow Master is long considered a Saucony fan favorite.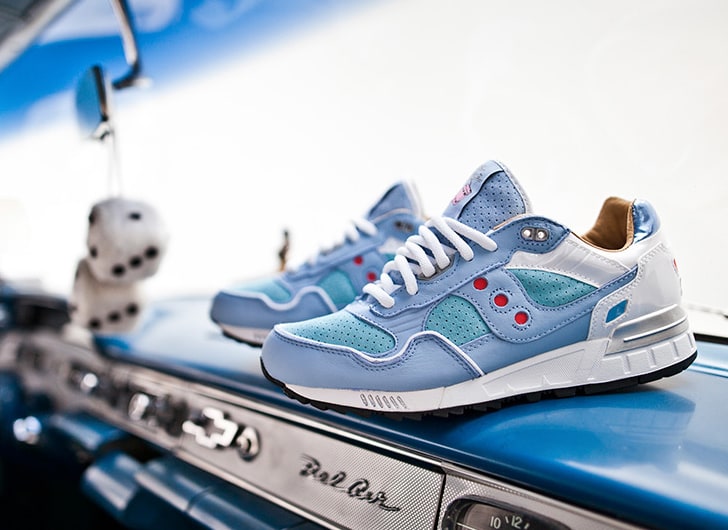 Extra Butter "For The People"
Shadow 5000
In the spirit of the 2016 Presidential Election, as well an education exercise letting the sneaker community in on the collaboration creation process, Extra Butter launched the "For The People" Shadow 5000, created by the people. Original Extra Butter co-founder Jason Faustino wanted to mix crowdsourcing with transparency for a one-of-a-kind collaboration where the sneaker community voted at every stage of the process — ideation, theme and design execution. The result was a "drive-in theatre" themed Shadow 5000 which took its looks from vintage American automobiles. A special Friends & Family edition was also created in extremely limited numbers, boasting a colorway that pointed to the interior of the vehicles, "where all the action happened".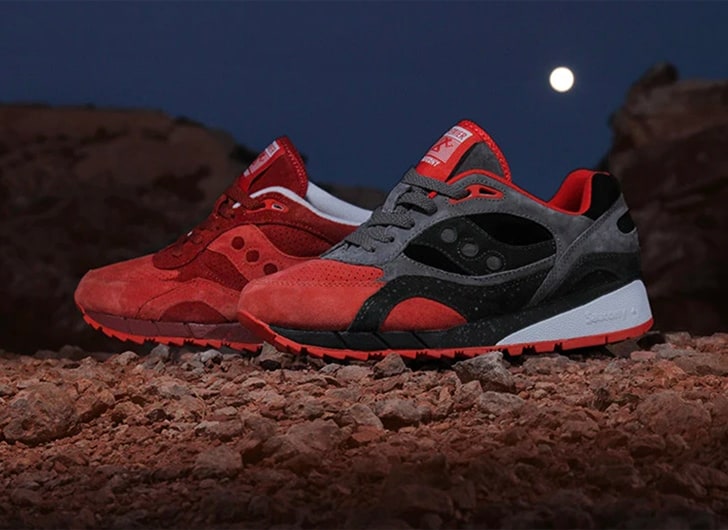 Premier "Life on Mars"
Shadow 6000 pack
In 2014 Grand Rapids, Michigan natives, Premier, told the story of an imagined journey to Mars. The shoes featured a red colored theme throughout with speckled accents that eluded to the planetary terrain. The Shadow 6000 was chosen as Premier was inspired by it's initial running design, as a fast and comfortable model, one fit for both exploration into space and Life on Mars.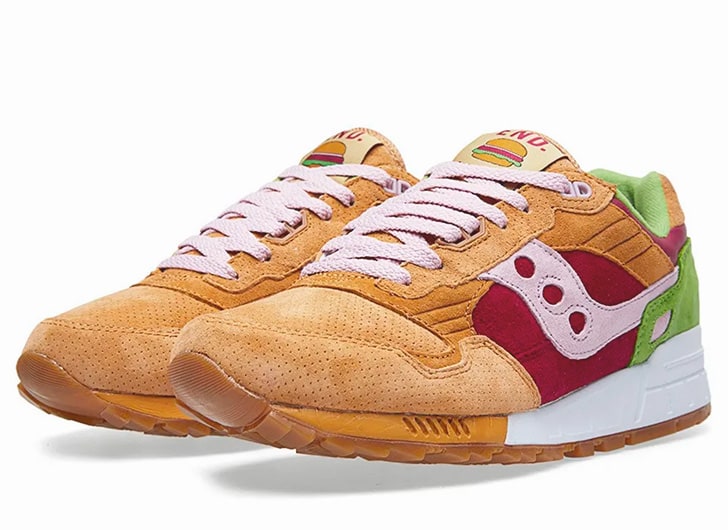 End Clothing "Burger"
Shadow 5000
Considered one of the most coveted and collectible Saucony shoes ever, END was inspired by gourmet burger joints that retold the American classic in a high end execution. The "Burger" Shadow 5000 is full of details, from the perforated suede material that mimics a sesame seed bun to the ketchup and lettuce colored accents. Special END branded condiment packets, themed after BBQ and mayonnaise, were included with the shoes which held secondary lace options.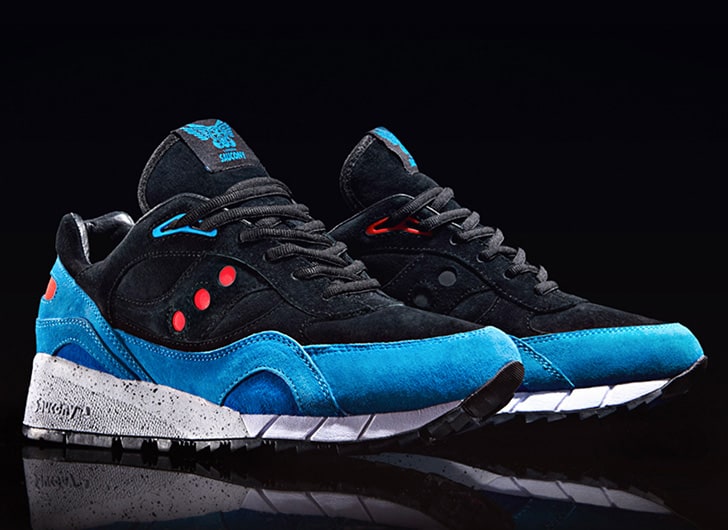 Foot patrol "Only in Soho"
Shadow 6000
Another highly coveted Saucony collaboration, 2013's "Only In Soho" Shadow 6000 by UK's Footpatrol was an instant sell out when it released world wide. Borrowing colors from London's Soho district, the Shadow 6000 is famous for its rich material upper, and bright red pops that shine through on the shoe's logo.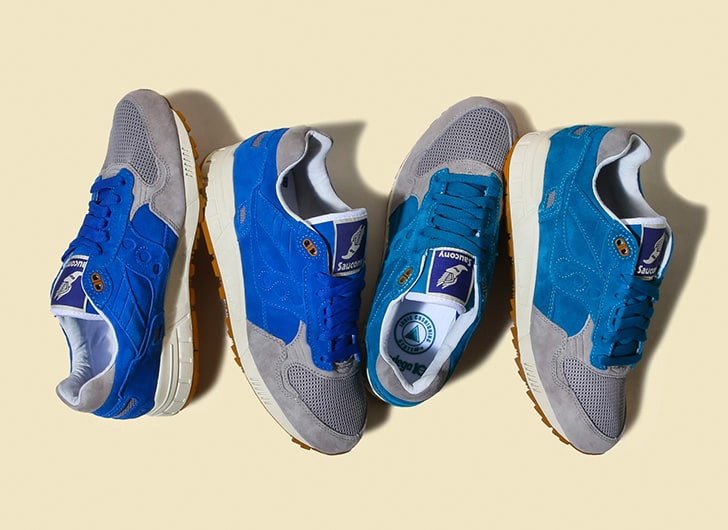 Bodega Shadow 5000
Originally released in 2010 as part of Bodega's Saucony Elite series, the Shadow 5000 was a luxurious reinterpretation of the retro runner colorblocked in 2 options grey/blue and grey/teal. The pair came back for a re-release in 2016 as part of Bodega's 10 Year Anniversary celebration, and ultimately served as part of a long history of collabs between the two brands.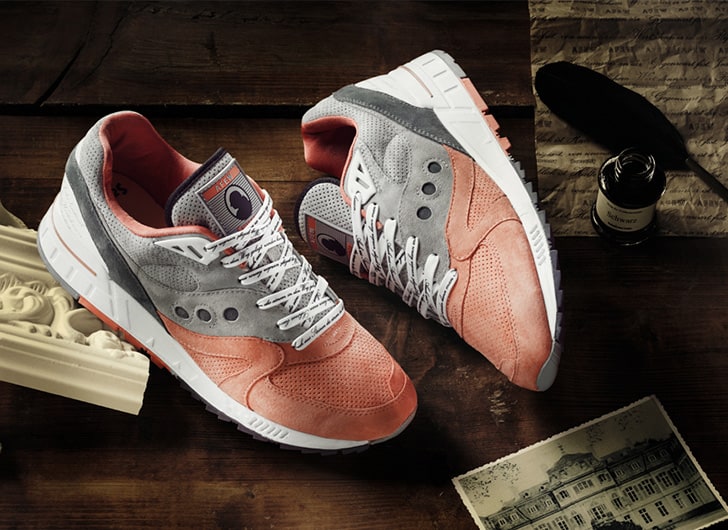 Afew "Goethe" Shadow Master
The Shadow 5000/Master Control hybrid is spun in another limited edition, this time by German sneaker stalwarts — Afew. Honoring their local surroundings, Afew designed the Shadow Master after Johann Wolfgang von Goethe, a German writer and poet whose work is featured in the Goethe museum just steps away from Afew's brick & mortar shop. The grey and rose color scheme comes from the museum's outer appearance while also featuring some of Goethe's poetry can be seen on the shoe's insoles, laces, as well as the back heel on each side.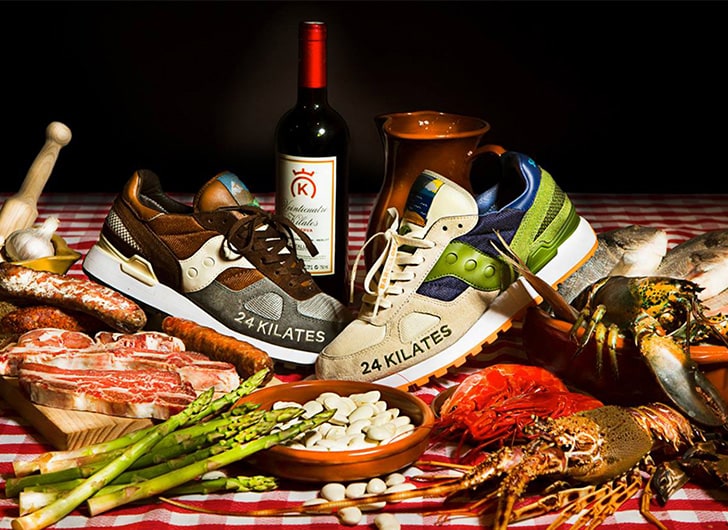 24 Kilates "Montana y Mar"
Shadow Original
The Catalan curators of 24 Kilates referenced the "mountain and the sea" with a 2-pack of the classic Shadow Original, in an exciting blend of colors. "Montana y Mar" is said to be inspired by the Catalan region's paellas which feature the best ingredients the mountain and sea have to offer. Each pair featured premium suede, a graphic tongue logo, and 24 Kilates emblazoned on the shoe's toe wrap.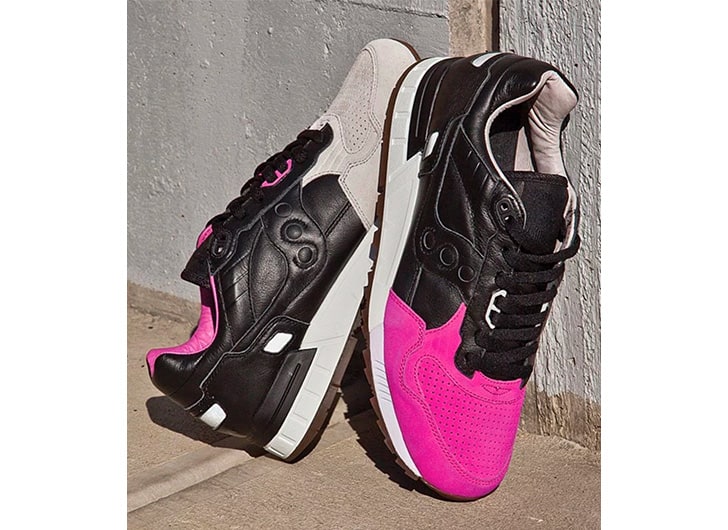 Solebox "Grey Devil"
Shadow 5000
An OG sneaker boutique out of Berlin, Solebox partnered with Saucony in 2012 for a premium execution of the Shadow 5000. Featuring a mix of premium leather and perforated suede, it served as the predecessor to the "Pink Devil", another one of Solebox's infamous and highly sought after Saucony collaborations.
THE SHADOW FAMILY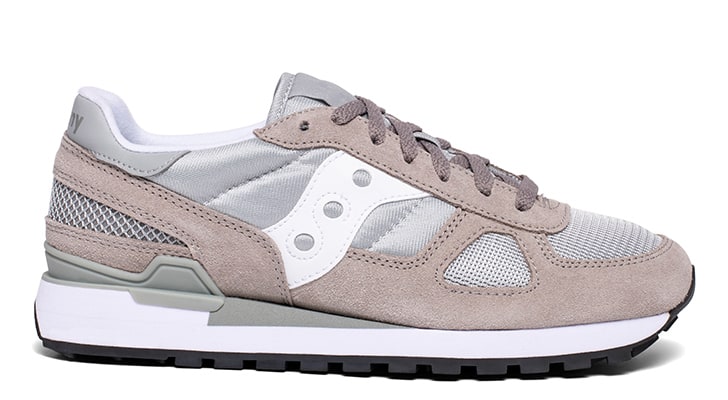 Shadow Original
The Shadow Original is a staple silhouette in Saucony history. First introduced in 1985 as a performance trainer, the Shadow Original still has that same comfort and stability of the original. With the mesh, nylon and that marshmallowy EVA you've come to know and love, the Shadow Original is an all-in-one fashion sneaker.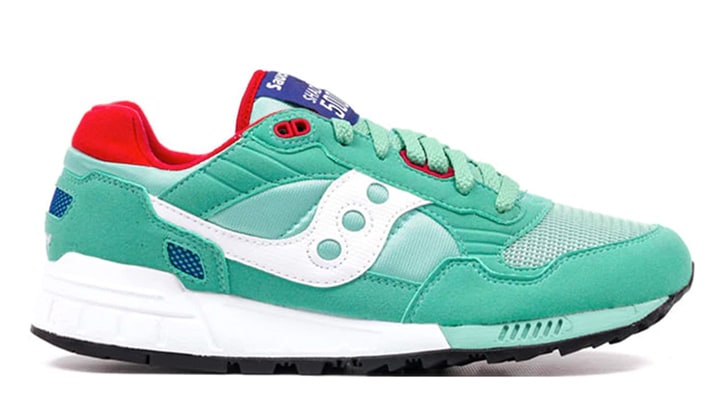 Shadow 5000
Originally released in 1989 as a performance runner, the shoe represents a period of genuine innovation in running technology where athletics met aesthetics. The Shadow 5000 has transcended its sporting roots and evolved into a modern classic featuring a combination of suede and nylon across the uppers, with a comfortable padded collar around the heel and a premium rubber outsole.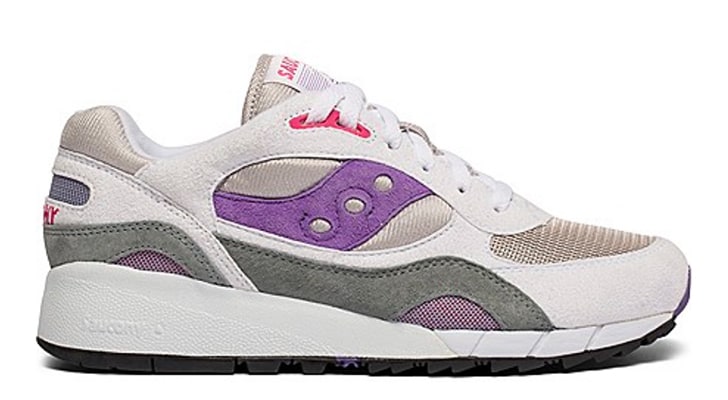 Shadow 6000
One of 1991's best high-mileage running shoes, the Shadow 6000 is a shoe that gives support and flex with the killer cushioning you expect from Saucony. The Shadow 6000 is an iconic retro-athletic look and footwear style classic.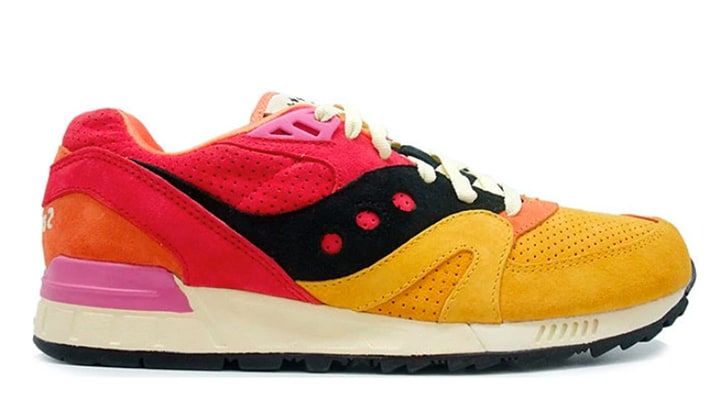 Shadow Master
A Frankenstein mashup of the brand's Shadow 5000 and Master Control, this hybrid served as the silhouette for some of the brand's most celebrated collabs. The Shadow Master features the smooth lines of the Master Control upper, sitting atop the Shadow 5000's sole unit.