Tales From The Trail
Whether it's the beauty of the outdoors, diversity of terrain (dirt, grass, mud, rock – we love them all) or drive for adventure, you, my friend, are a trail runner. And that means you need running shoes that, like you, are built a little differently.
Waterproof? Stability? Traction? Durability? No matter what you're looking for and where you pick 'em up and put 'em down, we've got a wide selection of trail running shoes to help you find your true path. Explore all trail running shoes
Saucony Mad River TR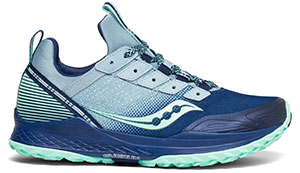 Saucony Mad River TR
Introducing the newest member of our Trail line up, the Mad River TR. Made for trail-running adventure-seekers, the Mad River is a fast, grippy shoe that's versatile and customizable, ready to tackle any terrain. If you're looking for non-stop options to customize your trail run, responsive cushioning and confidence on any surface at any speed, this one is for you.
Saucony Switchback ISO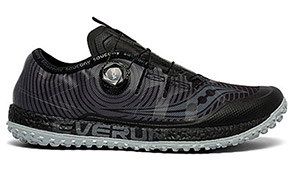 Saucony Switchback ISO
Enjoy tearing through the trails? The new low-profile, high-tech Switchback ISO features a dual-density, ultra-grippy outsole for extra traction and custom lacing system from BOA dial-in technology. Not to mention incredible flexibility that cradles and protects your foot. You'll mow 'em down in this shoe.
Saucony Peregrine ISO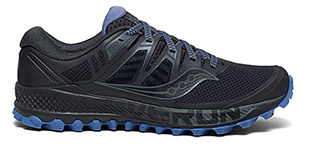 Saucony Peregrine ISO
It's not often that you get to say that you run with a legend. But, the Peregrine ISO certainly qualifies as trail royalty. This multi-award-winning shoe tames the trails with the ideal combination of cushioning and durability. The Peregrine ISO was made for the trails. Or were the trails made for this trail running shoe?
Saucony Xodus ISO3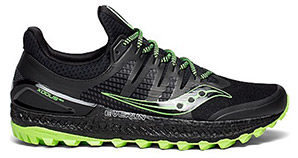 Saucony Xodus ISO3
We built the Xodus ISO3 to keep going no matter how hard you hit the trails. A full-length EVERRUNTM midsole offers continuous cushioning while the dual-density PWRTRAC outsole provides durability and traction on just about any surface – ready to endure the test of your own limits.
Saucony Guide ISO TR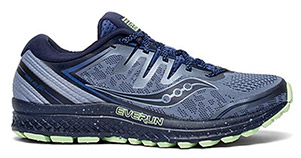 Saucony Guide ISO TR
If the trails are calling, the Guide ISO TR is your answer. An updated design adapts to the shape and motion of your foot, even if you have moderate overpronation. You can go from the road to the trail without missing a beat.
Saucony Excursion TR12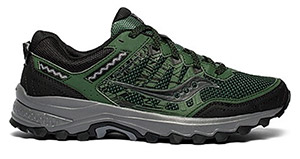 Saucony Excursion TR12
Just because you're kicking up dust on the trail doesn't mean you can't look good doing it. The Excursion TR12 combines great traction and protection with a stylish mesh upper that locks your foot into place. One of our most versatile shoes, you'll feel right at home in.
Saucony Cohesion TR12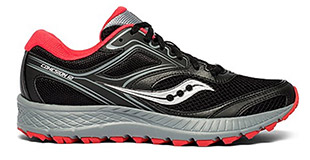 Saucony Cohesion TR12
New to trail running? The Cohesion TR12 is a great shoe to take on that first voyage off terra firma. A rugged outsole, reinforced upper and stable cushioning make the Cohesion TR12 your best choice to challenge any terrain.
Explore all trail running shoes